EXHIBITOR AND TRADE OPPORTUNITIES
The London Supercar Show 'Live' will have an outdoor exhibitor/display area known as The Supercar Showrooms set entirely on smooth tarmac right in the heart of the show. The area will also host the VIP and hospitality facilities and will be open to all 'active' participants in the show and 'by guest invitation' through our exhibitors under hospitality and invitation packages. A process will allow other selected general spectators to enter this area on application and in limited numbers.
Show Layout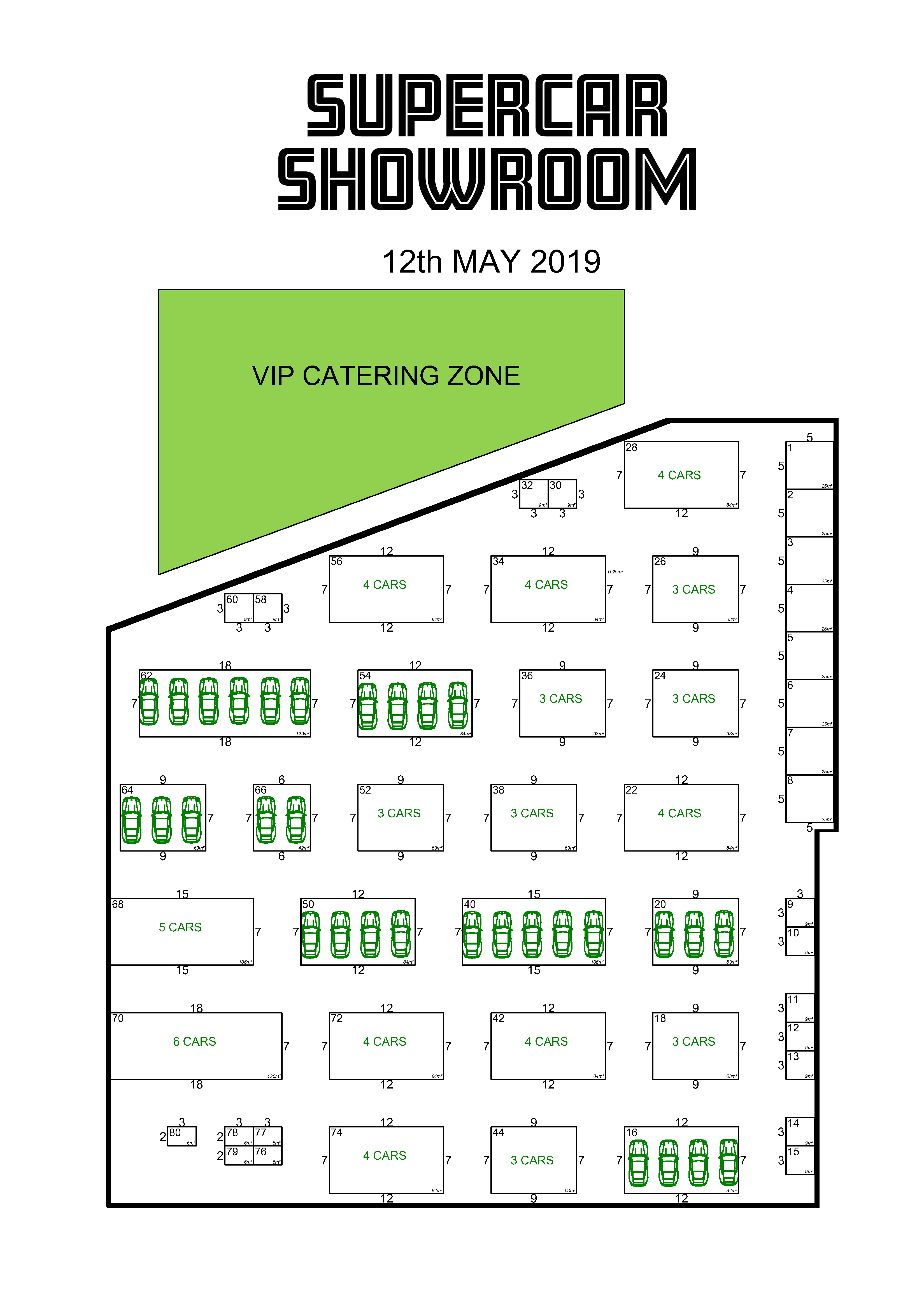 Click here to view larger Showrooms Layout
Exhibitor Types

The two main types of exhibitors will be supercar dealers and distributors and related organisations, companies presenting PPF and PPS, Tuning Companies, Detailers, Suppliers of Accessories, Clubs etc.
In addition to open display spaces, there are some covered spaces that will be set around the side of the exhibitor area with varying dimensions and opportunities.
Space is limited and based on our discussions so far, will sell out very quickly during January and February so please we do suggest, be quick to book your space now.
For companies displaying cars, we are offering options that will accommodate 1-2-3-4-5-6 cars. For everybody's peace of mind, discrete security will be in place to keep a watching eye.
The principle sizes of space for car display are 7m deep x 3m for one car, 7m deep x 6 metres for 2 and 7m x 9m for three cars. There will be a ground level 'header board' for your company name.
For other exhibitors, a mixture of open and covered spaces are available with sizes ranging from 3x3 ( 9sq m) and varying other sizes by arrangement. Our policy is within reason 'everything is possible'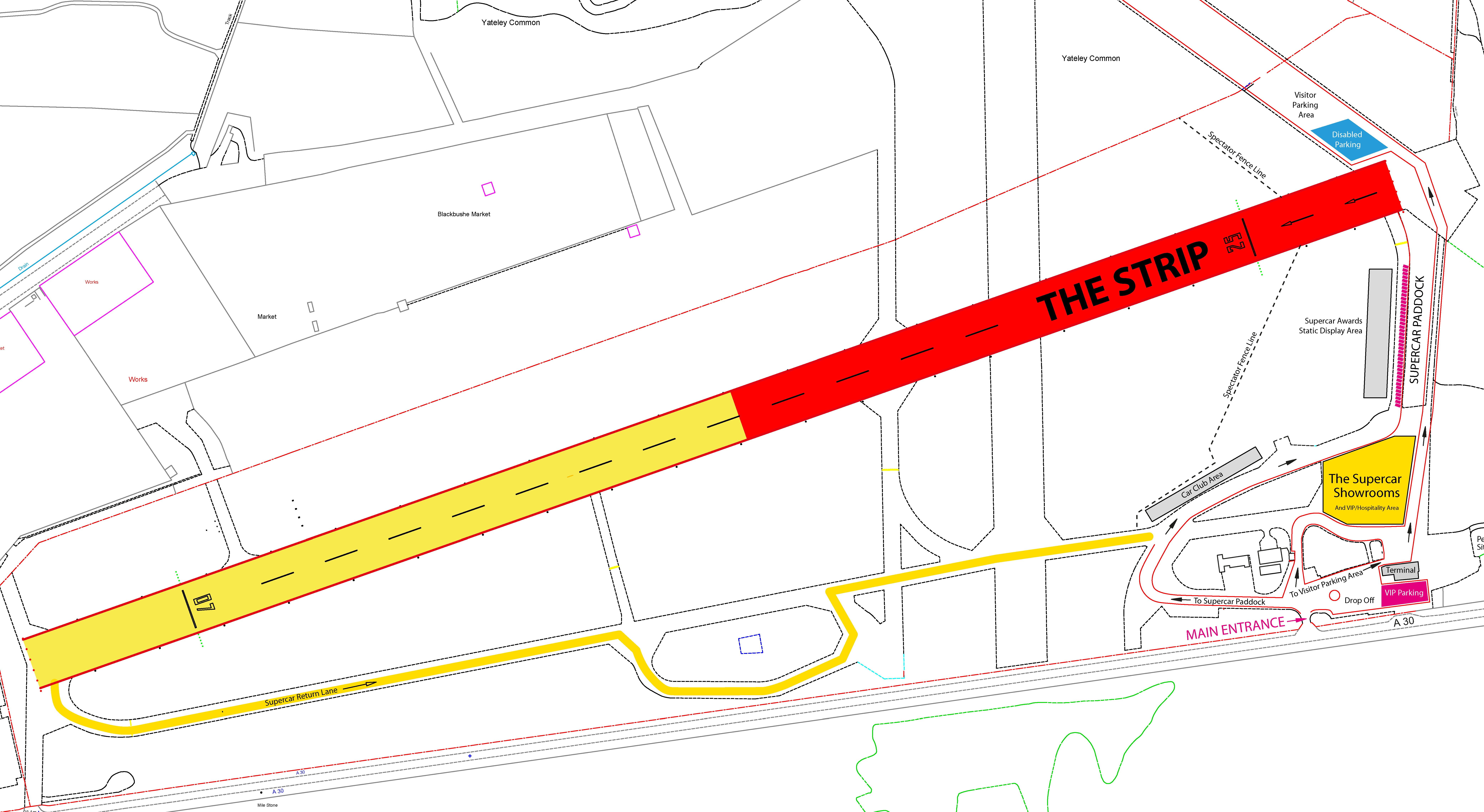 Full view Blackbushe airport and Supercar Show Live
Click here to view larger Map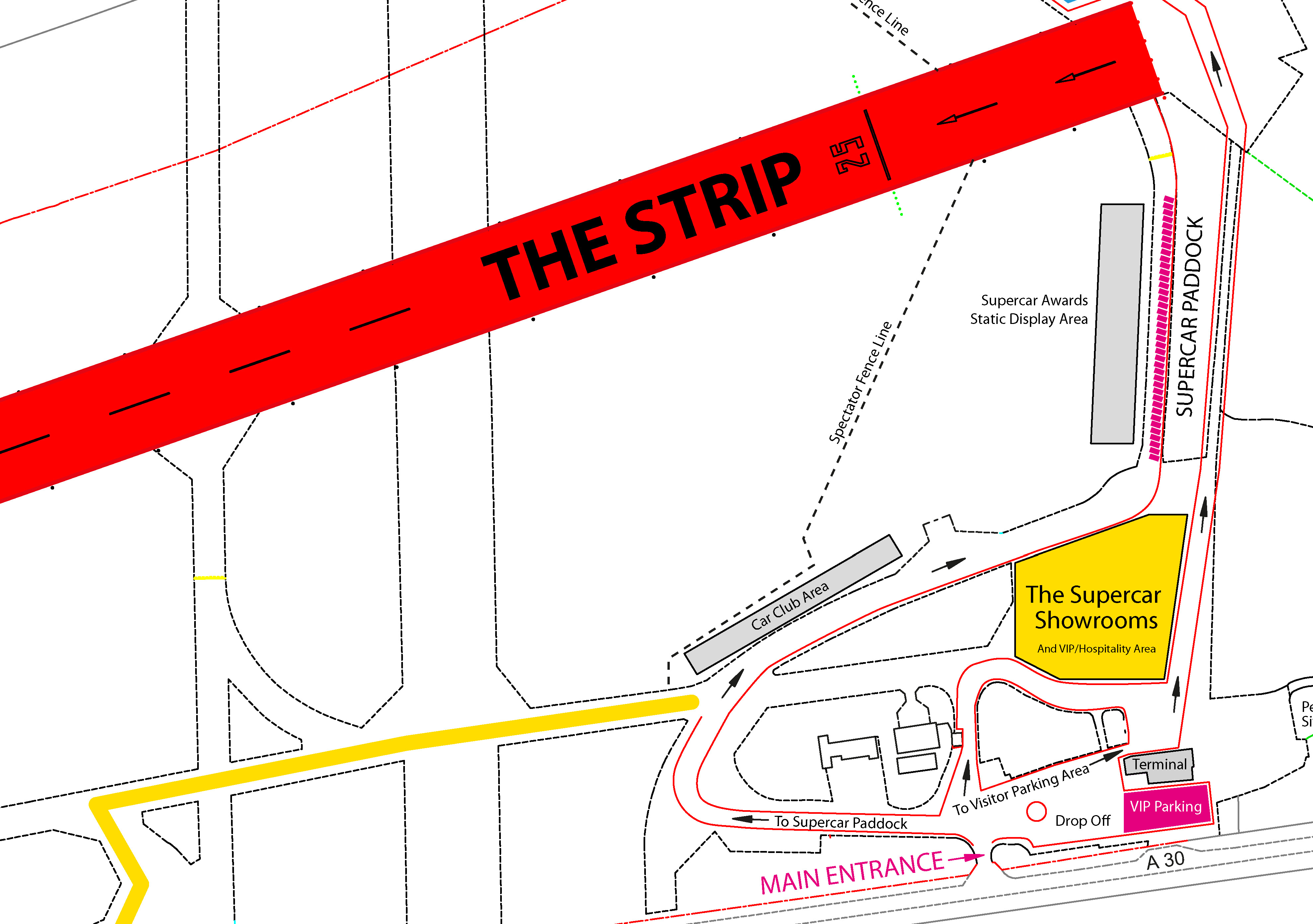 Closeup of exhibitor area entrance and static display and awards areas
Click here to view larger Exhibitor area
Rates
| Description | Dimensions (m) | Price |
| --- | --- | --- |
| Display Marquee (covered) | 3 x 3 | £1,500 +VAT |
| Display Marquee (covered) | 5 x 5 | £2,100 +VAT |
| Space only - 2 cars | 7 x 6 | £1,600 +VAT |
| Space only - 3 cars | 7 x 9 | £2,400 +VAT |
| Space only - 4 cars | 7 x 12 | £2,800 +VAT |
| Space only - 5 cars | 7 x 15 | £3,200 +VAT |
| Space only - 6 cars | 7 x 18 | £3,500 +VAT |
Hosting Guests
There will be tables set-up to host 10-20 people on YOUR table.
Your table will have one or two of your logos depending on size with food and wine options and our excellent food selection. To view the main menu for VIP/ Hospitality click here.
The full day package is £65 per head.
For more details on exhibiting please contact:
Hollie Collins
Tel: +44 (0)1306 743744
Email: hollie.collins@ukimediaevents.com
Or click here to register your interest in exhibiting